Spending by changing the mesa material is the same with the ground, which can realize the perfect hiding.
Spending the underlying parking, upper level does not affect the normal traffic.Or double level parking.
Spending can also be used for different floor car transportation up and down.
Spending under the equipment backward, both layer surface will not affect the normal traffic.
XC Series
Use
Family double-decker parking garage for private homes and villas. Also used for cross-floor car transportation.
Appearance
Appearance color can be customized according to customer needs
Platform Size(L*W)
10m²-50m²
Lifting Height
0-3m
Loading Capacity
0-10t
Lifting Speed
4-8m/min
Entry And Exit Method
0° 180°
Control Method
Automatic control / jog control
Installation
Install in the foundation pit
Power
220V/380V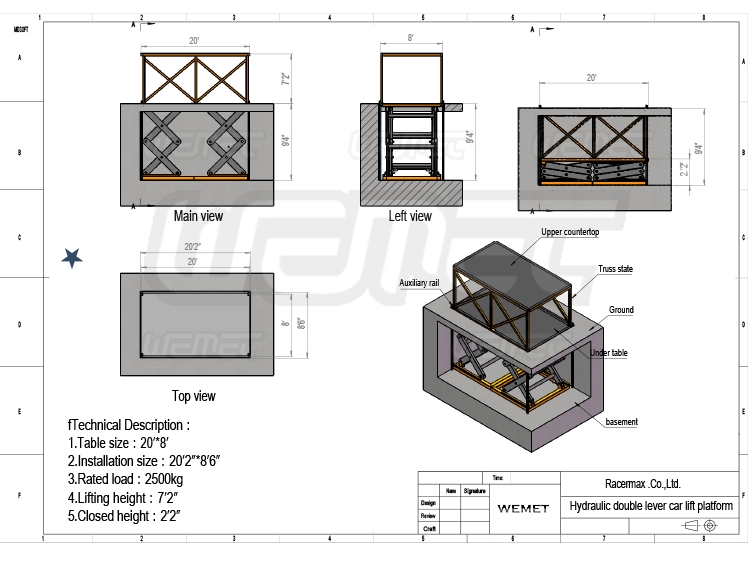 Advantages
Ultra high security
Wemet's multiple safety protection facilities: overload safety protection, pressure loss safety protection, safety interlock, equipment abnormal detection, emergency descent system, etc. provide you with the most powerful security.
Multi-point control, precise leveling
The platform control panel is set at each work level. The lifting platform automatically and accurately stops when it reaches the target floor.
Wemet high-end hydraulic system
Wemet hydraulic lifting system adopts fully enclosed imported hydraulic station, high sealing precision grinding cylinder, high pressure double-layer oil pipe, strong and powerful, and low failure rate, giving you a high-end product experience.