H-SJD Series
Product Category
Single guide-rail, Double guide-rail, Multi guide-rail
Use
Goods are lifted and transported across floors
Platform Size(L*W)
0-20m
Loading Capacity
0.1t-1t
Lifting Speed
4-8m/min
Appearance
Can be customized according to customer needs
Entry And Exit Method
0° 90° 180°
Control Method
Automatic/Jog Control
Installation Method
Foundation / Foundation pit installation
Power Supply
220V / 380V
External Control Device
External protection can be customized according to customer needs
Custom Design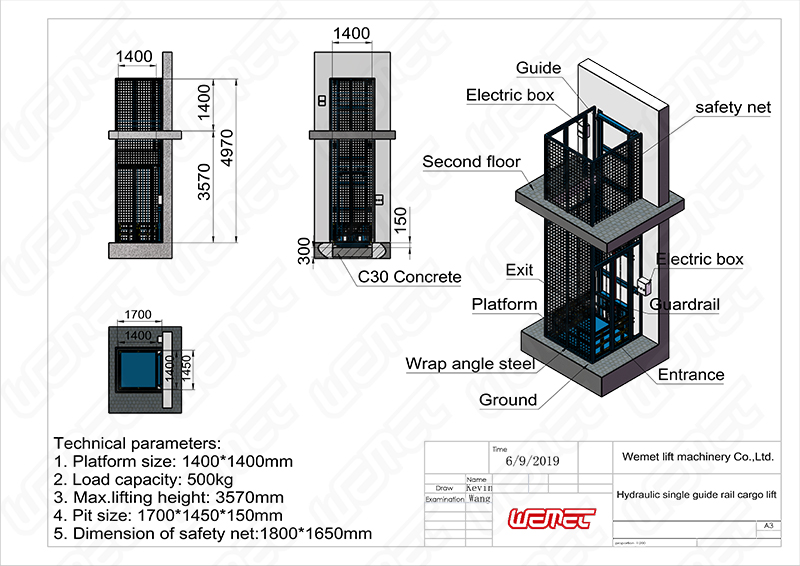 Advantages
Full stroke fall prevention system
Different from the traditional anti-falling system in the industry,WEMET anti-falling system carries out full-stroke anti-falling protection for the equipment platform. Every 10cm interval is equipped with parli professional anti-falling device to ensure the safety of the platform without falling risks.
Chain check system
WEMET guideway cargo lifting platform is equipped with a full-stroke chain anti-loosening monitoring system, which can comprehensively monitor the chain when the equipment is in operation.Once the abnormal state of the chain is detected, the equipment will lose power immediately to avoid the risk of platform fall caused by the continued operation of the equipment under the abnormal state of the chain.
High strength plate chain and fall rope
WEMET lifting platform adopts plate transmission chain with four times safety factor, with long service life and high strength, which greatly improves the loading performance and safety performance of the platform.