C-KHS Series
Use
Car lift, car transport between different floors
Appearance
Can be customized according to customer needs
Platform Size(L*W)
10m²-100m²
Lifting Height
0-20m
Loading Capacity
0-100t
Lifting Speed
4-8m/min
Entry And Exit Mmethod
0° 180°
Control Method
Automatic/Jog Control
Installation Method
Install in the foundation pit
Power Supply
220V / 380V
External Control Device
The external call box placed on the wall near the upper and lower stopping floors of the equipment
Custom Design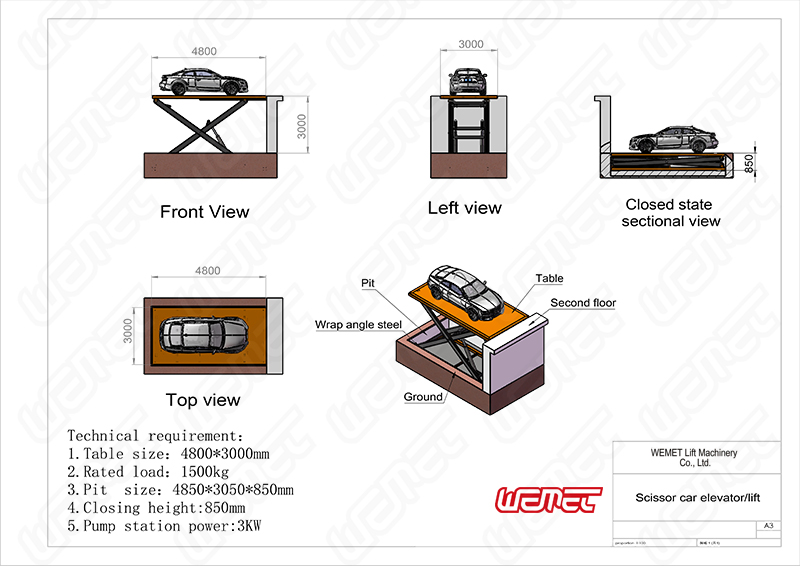 Advantages
Ultra high security
WEMET multiple safety protection facilities: overload safety protection, pressure loss safety protection, safety interlock, equipment abnormality detection, emergency descent system and so on. To provide you with the most powerful security.
Multi-point control, precise leveling
The platform control panel is set at each work level. The lifting platform automatically and accurately stops when it reaches the target floor.
WEMET high-end hydraulic system
WEMET hydraulic lifting system adopts fully enclosed imported hydraulic station, high sealing precision grinding cylinder and high pressure double-layer oil pipe. Powerful and low failure rate, giving you a high-end product experience.
High-strength scissor structure
The WEMET scissor structure uses high-strength alloy steel. High strength, heavy load, no deformation. After WEMET's 15,000 full load tests, it is still solid and new, safe and stable.