C-KHS Series
Use
Cars are lifted and cars are transported between different floors
Appearance
Appearance color can be customized according to customer needs
Platform Size(L*W)
10-50m²
Lifting Height
0-20m
Loading Capacity
0-10t
Lifting speed
4-8m/min
Entry and exit method
0° 180°
Control Method
Automatic control / jog control
Installation Method
Base pit installation or foundation pit installation according to customer site selection
Power Supply
220V / 380V
External control device
The outer call boxes are respectively placed on the equipment, and the wall near the lower stop layer
Custom Design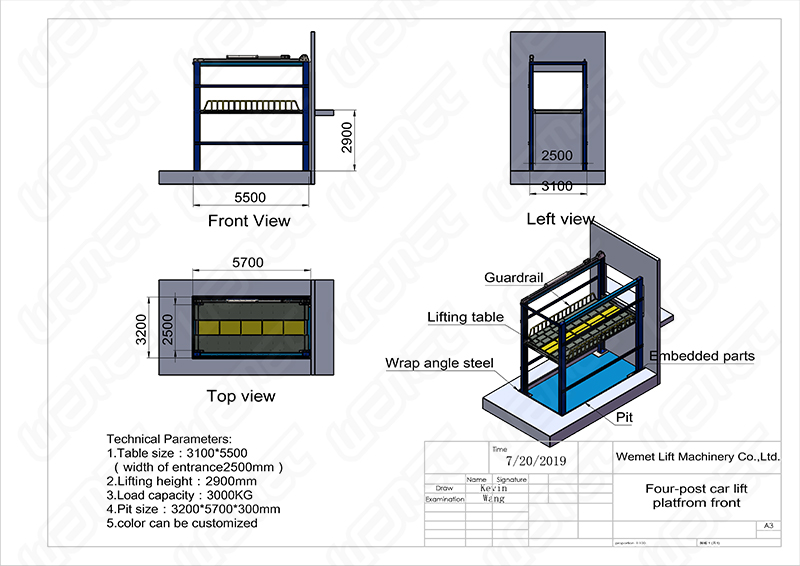 Advantages
Full stroke anti-drop system
Different from the traditional anti-falling system in the industry,WEMET professional fall arrester is installed at intervals of 10cm to ensure the safety of the platform and no hidden danger.
High-strength double-plate chain
The WEMET lifting platform uses a double-plate chain with eight times the safety factor, which is a four-fold improvement over the safety factor of the traditional lifting platform.
Chain anti-loose detection
The WEMET four-post lifting platform is equipped with an exclusive full-stroke chain anti-loose monitoring system. The system monitors the chain in all aspects of the equipment. Once the chain status is detected abnormally, the equipment will immediately power off.