X-SJD Series
Use
Lifting of goods between high and low working heights,
Loading and unloading、dumping,Cross-floor transportation of goods
Appearance
Can be customized according to customer needs
Platform Size(L*W)
0 – 20m²
Lifting Height
0 – 4m
Load Capacity
0 – 100t
Lifting Speed
4-8m/min
Platform customization style
Flat type, grooved type, bracket type and other customization
Flip Angle
0° – 180°
Control Method
Setted lifting range/Jogging Control
Installation Method
Installation in the pit
Custom Design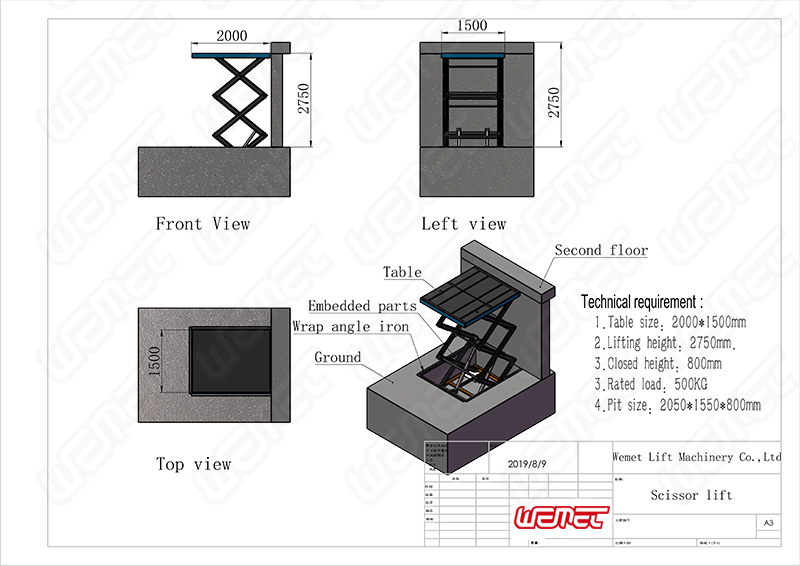 Advantages
Ultra-high security
WEMET multiple security protection facilities: overload safety protection, loss of pressure safety protection, safety interlock, device anomaly detection, emergency descent system, etc., provide you with the most powerful security.
Multi-point control, precise leveling
Platform control panel is set at each working level. The lifting platform automatically and accurately stops when it reaches the target floor.
WEMET High-end hydraulic system
The WEMET hydraulic lifting system adopts fully enclosed imported hydraulic station, high-sealing precision grinding cylinder, high-pressure double-layer oil pipe. Powerful, low failure rate, gives you high-end product experience.
High-strength scissor structure
The Wemet scissor structure is made of high-strength alloy steel. High strength, heavy load, no deformation. After Wemet 15000 times full load test, it is still solid as new, safe and stable.